Director
Shri. Joe Joseph
Phone : 2386365 (O), 0471 2534711 (R)
Mobile : 9447460721
Email : publication@keralauniversity.ac.in
joejosephthayamkary@yahoo.co.in
Sales Emporium Phone : 2308606
Store Keeper Phone : 2386430, 8590251240 (Mob)
ABOUT
The Department of Publications started functioning in July 1938 as a unique institution of the Travancore University. At the time of its establishment no other University in India had organized such an establishment devoted solely to the publication on scholarly works. The department was established with the following objectives:-
To provide Malayalam with an adequate terminology to meet the demands of the progress in civilization and the discoveries in Science and Art in modern times.
To publish popular works on Science and general culture.
To translate the World Classics.
To collect source materials to pave the way for a comprehensive and accurate history of Kerala and its culture.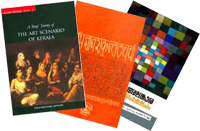 Thus, the Department of Publications was started with the object of enriching Malayalam language and literature. During its formative stage it brought out a series of glossaries, popular science books, translations from classics and original books written by scholars from outside. Six Glossaries were published on Mathematics, Chemistry, Physics, Botany, Zoology and Education. The other works included translations of Marcus Aurilius, Plutarch's Lives, Montaigne's Essays etc. An edition of Srimat Bhagavat Gita and a treatise on Sanskrit Grammar titled 'Saraswathi Kantabharanam' were also brought out. The department also undertook the publication of scholarly extension lectures delivered by eminent persons under the auspices of the University.
Hortus Malabaricus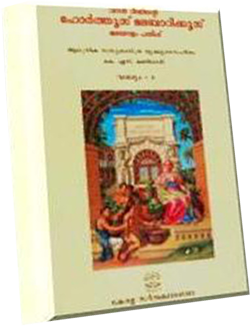 During these remarkable years of publishing work, the most acclaimed work of the Department of Publications has been the publishing of 'Hortus Malabaricus' in 2003. 'Hortus Malabaricus', published from Amsterdam in 12 volumes during 1678-1693, compiled and printed by Hendrik Adriaan van Rheede tot Draakestein, the then Dutch Governor of Cochin, a princely state of India, is the oldest comprehensive printed book on the natural plant wealth of Asia and of the tropics. This book gives vivid details of the medicinal properties of plants, the respective diseases for which they were used for treatment and the modes of treatment as known to the ancient, renowned traditional physicians of Malabar(Kerala). This work also throws light over the cultural, social, political, historical and linguistic conditions of India as well as Kerala. In 2008, the Department of Publications released the Malayalam edition of the work.