Chancellor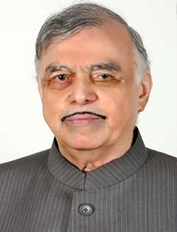 Shri. Justice P. Sathasivam
The Hon'ble Governor of Kerala
Shri Justice P. Sathasivam was born into an agricultural family as the son of Palaniswamy and Natchiyammal at Kadappanallur Village near Bhavani in Erode district, Tamil Nadu on 27 April 1949. Graduating from the Government Law College, Madras, he enrolled as an advocate and was appointed to the post of Additional Government Pleader. Subsequently, he became the Special Government Pleader in the Madras High Court. He also served as Legal Adviser for several state-owned corporations, municipalities and banks. He was appointed a permanent judge of the Madras High Court in 1996 and transferred to the Punjab and Haryana High Court in 2007. He was elevated to the post of Judge of the Supreme Court on 21 August 2007. He was sworn-in as the 40th Chief Justice of India on 19 July 2013 and retired on 26 April 2014.
Shri Justice Sathasivam has to his credit several path-breaking judgements which include the Reliance Gas Judgement wherein he observed that 'in a national democracy like ours, the national assets belong to the people'. He also delivered the verdict in the triple-murder case of Stains and upheld the conviction of Dara Singh. Along with Justice B.S. Chauhan, he delivered the judgement in the 1993 Mumbai blasts case, sentencing several accused persons including Bollywood Actor Sanjay Dutt to five years imprisonment. This was the biggest case heard in the history of Supreme Court. In consonance with the international conventions and treaties, he delivered another important judgement in Rajiv Gandhi assassination accused case holding that unexplained and unreasonable delay in disposal of mercy petitions by the President leads to commutation of death sentence into life sentence. He has travelled widely creating awareness of people's rights and privileges.
Shri Justice Sathasivam is married to Smt. Saraswati and has two sons.
Shri Justice P. Sathasivam assumed office as the Governor of Kerala on 05 September 2014.