Welcome to the Digital Garden of University of Kerala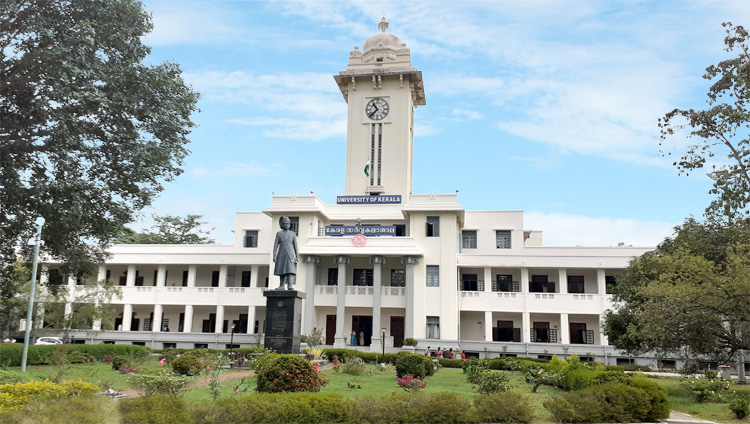 University of Kerala is one of the first 16 Universities in India, founded as the University of Travancore in the erstwhile princely state of Travancore in 1937. Since then, the University of Kerala has transformed itself in many ways. University of Kerala is today known as the "Mother University" of the state, as almost all the other Universities in the state were created by either bifurcating it or re-affiliating its affiliated colleges.
The University of Kerala has two major campuses, the largest being the Kariavattom campus, 16Km from the city centre. Geographically Palayam lays 8 30'16 N latitude and 76 57'01 E longitude. The Palayam/Senate Hall Campus [17 acres] is right in the middle of the city; possess 6 departments. The Palayam campus has mainly the administrative office of the University, including the Vice-Chancellor's and Registrar's office. In addition to the office of Controller of Examinations and Computer Centre, the Palayam Campus also houses the departments of English,German and Russian, and the School of Distance Education, Students Amenities Centre.
Thirty Six departments are situated in the Karyavattom Campus. This sprawling green campus [359 acres] is close to Kazhakuttom, on the National Highway 66. Kariavattom campus situated at the north east of Thiruvananthapuram city and 3 km near the Arabian sea. Geographically Kariavattom lays 8 34'6 N latitude and 76 52'51 E longitude at an altitude of 60 m above Sea level. The typical tropical climate prevailed over witha mean rain fall of 1850 mm. Texturally the soil of the study site has been classified as lateritic soil.
The present study involves the documentation and QR code enabled digitization of tree species of Kariavattom and Palayam Campus of University of Kerala.
Digitization of Flora through QR Code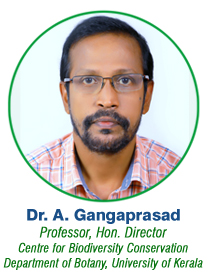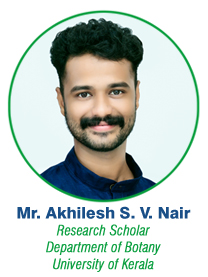 Digital Garden is a concept of digitization of floristic diversity of an area for the easy access of plant data using our mobile phones. The concept of digital garden and creation of India's first digital garden was done by Shri Akhilesh S.V. Nair, Research Scholar, Department of Botany, University of Kerala, and Dr. A. Gangaprasad, Professor, Hon. Director, Centre for Biodiversity Conservation, Department of Botany, University of Kerala, at Kanakakkunnu Palace, Thiruvananthapuram. After the success of establishing the digital garden at Kanakakkunnu Palace, Thiruvananthapuram, the authors also established a digital garden at Kerala Raj Bhavan, which becomes India's first Raj Bhavan with a digital garden.
Documented data were digitized through website creation and QR (Quick Response) code linking. Specific URL's were used to create QR codes for each species. In order to create a digital garden, the QR code is placed along with the plant label. By scanning the QR code with a QR code scanner in the mobile phone, the code translates the URL and open to the website; where the person can access the complete data of each plant species.
Centre for Biodiversity Conservation, University of Kerala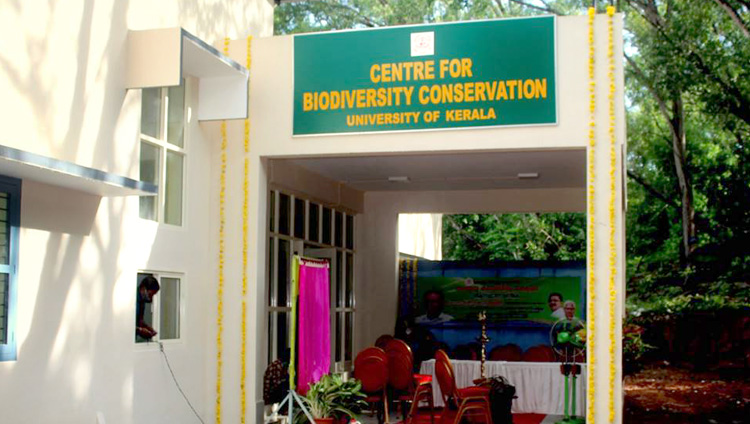 Implementation of digital garden in University of Kerala campuses was undertaken by the Centre for Biodiversity Conservation, University of Kerala. Centre for Biodiversity Conservation was established to provide bounteous knowledge about the importance of conservation of our biodiversity to the upcoming young talents. Centre for Biodiversity Conservation is currently involved in the conservation and sustainable utilization of both wild ornamental and edible plants of Western Ghats, and Digital Gardening. The Centre also proposes to establish an orchard of fruit trees in place of the existing Acacia plantation by planting the locally available traditional varieties of fruit trees collected from various parts of Kerala. As a first step, it is proposed to establish an orchard in acres of land in and around the Hymavathi Pond at Kariavattom campus, University of Kerala. Centre is also involved in the conservation of economically important species of Andaman and Nicobar Islands. Recently, more than hundred species of such plants were collected from Andaman Islands for the establishment of an ex situ Gene Bank of economically important species in the Kariavattom campus.
QR codes or Quick-Response Codes are easily readable two-dimensional barcodes that when scanned with a QR decoder can translate the code into a URL (Uniform Resource Locator). It allows to encode over 4000 characters in a two dimensional barcode. Popularity of QR codes has increased exponentially now a day with the technological advancement. QR linking is an emerging field of barcoding; however the best way to link specimens to databases and other materials is still under discussion. Someother options include Unique Specimen Identifiers (USI), Globally Unique Identifiers (GUIDs) and Life Science Identifiers (LSIDs).
Currently one of the most frequently used methods is Barcoding. This method was implemented in biological collections in the 1990s at INBio and the Smithsonian Institution (Janzen 1992, Thompson 1994). QR codes were originally invented in 1994 by a Toyota subsidiary Denso Wave Incorporated, in order for storing more information.
QR codes have nine standard features (Denso Wave Incorporated 2013):
Capacity to handle different types of data: numeric and alphabetic characters, Kanji, Hiragana, Katakana, symbols, binary and control codes.
Large capacity: up to 7,089 numeric and 4,296 alphanumeric characters can be encoded (hundreds of times more than in a barcode).
Small printout size: the same information can be encoded in a QR code one-tenth smaller than a barcode.
High speed scan: omni-directionally readable, with position detection patterns circumventing the negative effects of background interference.
Universal standardization: AIM International Standard, Japanese Industrial Standard and ISO International Standard (ISO/IEC18004).
Dirt and damage error correction: QR codes allow a maximum of 30% of damage without losing information.
Compartmentalization: QR codes can be divided into multiple data areas (as many as 16), allowing smaller printouts.
Flexible representation: shapes and colours of modules can be changed, even allowing for artistic representations (QR code Art).
Readability: QR codes can be read by any Smartphone, tablet or laptop with a camera, using freely available software.
QR code linking have immense applications in various fields like commercial tracking, transport and entertainment ticketing, visa and passport information, libraries, education etc.