Home Departments List

Department of Computer Science
Department of Computer Science (Established in : 1985)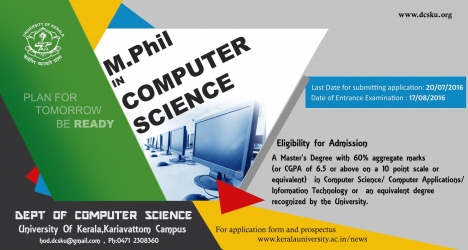 Contact Details :
Department of Computer Science
University of Kerala
Kariavattom
Thiruvananthapuram 695 581
Phone: +91 0471 2308360
The Department of Computer Science was established in 1985 via amendment number 55 in the statutes of the University of Kerala. The Department was initially housed in the Senate hall campus at Palayam, Trivandrum, but in 1993 moved to the present more spacious building in the Karyavattom campus. It now enjoys a unique position among the University Departments and other advanced Institutions offering Computer Science and Information Technology programmes in the State.
For more details, please visit : http://www.dcsku.org/